FEEL GOOD LOOK GOOD
Want to spend quality time with friends and family in natures finest? Not training for the Olympics or the World Tough Guy competition? YUUSSS – cos this trail is for YOU. This is still a trail with all the 'trail' stuff - roots, rocks, slippery stuff and steep stuff. HINT: Don't rush - take your time, stop along the way at the many viewing vantage points and platforms, and take in the breathtaking views. DO the dreaded SELFIE (embrace it :)) It really is WOW! This only requires a reasonable level of fitness and can be a fast-blast or 'take your time, go your own pace, cruising on a Sunday' course. The first drop is relatively easy - the return will get you pumping BUT the views will totally distract you....it's a little higher than One Tree Hill ...and does undulate .. and its without the cafes and the lycra label bashers doing fancy pants squat lunges and handstands. DO IT :)
BURN

Always need something extra? A plus 1? Something on the side? A special? A benefit? This is for YOU! You're going to be there anyway, so you might as well. Add a waterfall, walk along the top of the cliff, an extra climb – easy! This will fit right in with your EXTRA - 'don't wanna miss out - just-one-more – I shouldn't but I will - live a little' personality type. Bright lycra, flash gears, fancy shoes and unashamed label bashing is welcome. You'll need to be prepared as this requires a decent level of fitness AND you will be - cos you're an endorphin junkie! Go for the EXTRA BURN and be back at base to trash talk, brag and relax - enjoy a cold Up n Go, food from the BBQ and good music. Add a swim at the waterfall ...YOU love it YOU love YOU – YOU know it :)
KICK IN THE PANTS
This is a straight up, kick yourself in the pants distance. Bring your best – you will need it. BE Careful – in some places you will be very close to the cliff edge. Look after your mates. Everyone comes home. NO more words. NO more excuses. TOUGH IS A MINDSET. If you have a REASON big enough then its ON. Don't be lulled or fooled - this is TOUGH. Accept that fact and you're away! Bring your big heart, big dream, big kid pants, and do it. You've got plenty of time to complete the distance. You will make it. Let the talkers talk – you're a DOER, a MOVER, a WINNER! You MUST carry water. There are support stations along the way with fuel, aid, music, and lively trash talk. NEVER ASK – are we there yet? The answer will always be a lie. Knock it off, then come back next year and kick it in the pants – harder and faster! GO!
12 November 2017
6.30: Registration open
Waiver - all participants will be required to sign a waiver before commencement of the event when they register.
Maps - all teams will be issued with maps. Feel free to make your own maps as well.
18km
7.15am: Briefing from Event team
7.20am: Briefing from Ranger
7.30am: Race Begins
15.5km
7.45am: Briefing from Event team
7:50am: Briefing from Ranger
8.00am: Race Begins
9.5km
8.15am: Briefing from Event team
8.20am: Briefing from Ranger
8.30am: Race Begins
Awards ceremony throughout as teams complete the event.
Event Packs will be issued at the finish line.
Hot milo and some refreshments are available at the finish line.
3.30: event is concluded
Location
WAITAKERE RANGES - LOG RACE ROAD, PIHA
HOW TO GET THERE:
There are several ways to access the Waitakere Ranges Regional Park.
Enter 16 Log Race Road, Piha into your chosen navigational system or download a map below
From South:
Download Map 1 | Download Map 2 | Download Map 3
From North:
Download Map 1 | Download Map 2
From East:
Download Map 1 | Download Map 2
CARPOOL:
Parking spaces are limited and we strongly recommend that you carpool.
EVENT BASE: Log Race Road, Piha
Parking - Log Race Road Parking Area - spaces are limited. Park responsibly to ensure that all access and egress for residents, business and emergency vehicles are available at all times; that the public is not unduly inconvenienced; and that public and private access ways are kept clear at all times.
Important Contacts
Arataki Visitor Centre: 09 892 4777
Piha/Karekare Ranger Depot: 09 812 8860
Piha/Karekare Duty Ranger Cell Phone: 021 565 1377
Tracey Ryan, Event Director: 021 739 756
Esther Williams, Event Manager: 021 079 5125
Health & Safety
Be aware that the track will be heavy in places, slippery and exposed to the elements. Take all precautions.
The Principal Ranger has the authority to close the event 24 hours before the event day. We will notify you.
Assistance will be available to extract people from the track to the nearest extraction points if needed.
Remember to have the emergency numbers available to you throughout the event. ie stored on your cell phone.
1st Aid will be at the start/finish line and available to assist for the duration of the event.
Reminder to have a cell phone available to your team and battery power to last your event.
Services
Kauri Dieback - Kauri trees are found amongst other native trees throughout the Upper North Island. But kauri dieback is threatening kauri with extinction. There is no cure for kauri dieback, it can be spread by just a pinhead of soil, and you can't tell by looking whether a tree is infected or not. But kauri will be saved by people like you.

In general, you should always:
1: Clean all soil off your footwear and other gear, every time you enter or leave a forest/area with native trees, and at every cleaning station.
2: Use disinfectant only after you have removed all the soil.

Stay on track and off kauri roots. A kauri's roots can grow outwards 3x as far as its branches.

Infected trees may not show it; never assume anywhere is free of kauri dieback. If you're in native bush and you're in the upper North Island, it's likely you'll be near kauri.
Download Kauri Dieback FAQ & Mythbusters
Download How I Can Help Save Kauri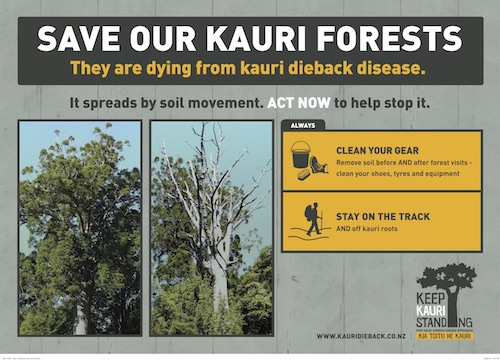 Additional Gear
A reminder that you are able to pack two 20kg packs/containers/bags that are clearly marked which will be available at the Pohutukawa Glade checkpoint.
You are able to access your car to get to additional gear as you pass through the start/finish line.
Other
Cancellation - as a condition of the Health and Safety and Auckland Councils Liability insurance, the Park Ranger reserves the right to cancel the event 24 hours before the event day.
Postponement - in the event of a cancellation the event will be postponed. Participants will be notified post-event, date of the postponed date.
Early shutdown - if the event is stopped after commencement, there will be no postponement date.
Refund - Thank you for your fees and donations. These will not be refunded in the event of a cancellation or early shutdown of the event as directed by or in consultation with the Park Ranger for any reasons including Health and Safety of the participants, or the withdrawal of a participant/ s.
Alcohol and Smoke free event - as agreed with Auckland Council
No trading is permitted
Amplified music is discouraged. If needed, it should not unduly disturb neighbours to parkland or other park visitors. The Park Ranger has the authority to reduce any excessive sound levels.
The park is open to other users - please respect them and give them time and space to pass.
General
All team members must be aged 18 or above unless approved by the organiser.
All participants must check the appropriate Acknowledgement, Waiver and Release Form during the registration process on the day.
All participants must sign out of the event at the finish chute. This is for the safety of all participants.
Each team must have 2 or more members.
All team members must stay together between Check Points and must check out together at each Check Point. Check Point staff will not check in or check out teams with team members unaccounted for.
Depending on your assessment of the situation, in the event of an injury or emergency, the following procedures are recommended;
a) Contact the Command Centre on the emergency phone number given to you at the briefing and inform them of the situation. This will be a dedicated phone for emergencies only. Proceed as directed.
b) Depending on the situation make your way to the nearest checkpoint, which will have first aid and communication available.
c) Call the Park Ranger and proceed as directed by the Park Ranger
d) Ring 111 and follow the emergency call procedures as directed by the operator. Your map will give you details of your exact location.
In the event that you do not have cell phone coverage and you come across an incident, please follow the procedures below:

Stop. Do not place yourself in danger.
Try and communicate with the person.
Assist with basic 1st aid if you are able and can do so safely.
Send the next participant through to notify the next event marshal of the situation and location of the incident.
Stop the next participant and request assistance if required.

Under no circumstances are individuals to be left unattended on the track. If a team member becomes seriously injured and cannot be moved, one person must stay with him or her while others seek help.
If you want to withdraw during the event, you must first report to the nearest Check Point. Remaining team members cannot continue until the withdrawal of the team member has been reported. If for any reason you have to leave the event urgently, you must call the emergency number as soon as possible. In order to withdraw, the participant must complete a withdrawal certificate at one of the Check Points. If there is only one member of a team remaining, they must accompany another team between Check Points. This ensures that all participants travel in groups of at least two people. Each team retains team name and number.
If for any reason team members decide to stay between two Check Points for more than 2 hours, they must call the emergency phone number to inform the organiser. Otherwise, they will be considered missing and a search will be initiated.
If your team has not departed a Check Point by the nominated closing time, the team will be withdrawn from the event and the team will be advised not to proceed. The closing times are calculated on the basis that there would be insufficient time to complete the event in the specified 9 hours.
A team's finishing time will be recorded as the last member of the team reports to officials at the Finish. No individual time(s) will be recorded.
Identification bibs must be worn at all times during the event.
Teams must notify the organiser of any change of team members by completing a change of team member form and returning it to the organiser. No substitutions will be allowed once the event is in progress.
If in the opinion of medical personnel, a team member is unable to continue for medical reasons, then the organisers reserve the right to withdraw that member from the event.
Safety
This is an unsupported event, but it is unrealistic to carry all supplies yourself. So there are two major checkpoints that will have water, first aid and communications available. Each team will be able to leave a 20-litre bag/bin at the checkpoints clearly marked with their team name. The bag/bins will be packed into trailers at the start line and delivered to the checkpoints. e.g. all teams may have a 20-litre bag/bin at each of the two major checkpoints i.e. 2 separate bags or bins with food, change of clothes etc.
Please ensure each team member carries water with them during the event.
If you are supported by a support crew outside of the designated checkpoints, your team will be disqualified unless permission has been given by event organisers for emergency reasons or extractions.
Please give way to teams walking at a faster pace and other track users. The trail can get congested, be aware of other users.
Each team should carry at least one first aid kit suitable for the event.
Prescription medication and pain killers will be your own responsibility. These cannot be issued by First Aid.
Exposed sections of the trail can get cold and it is strongly recommended that participants carry and wear appropriate clothing for such conditions.
Public carparks and roads are not closed. Please be aware of cars.
There is one shallow river-crossing where you will get wet feet. Please take care.
The Park
1. Do not drop litter. Please respect the park and carry your rubbish to the next checkpoint.
2. Any participant found to be contravening any park regulations may lead to the team disqualification from the event.
Trail Buster Karekare 2017
Raised So Far
$8,881.86
Help us raise vital funds